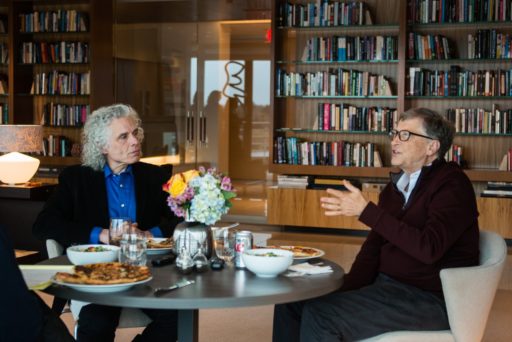 As I started reading Steven Pinker's new bestseller, Enlightenment Now: The Case For Reason, Science, Humanism And Progress, I must admit I was curious to learn why Microsoft founder, Bill Gates, called it the greatest book he's ever read.
And after making it through only a few pages of the preface, I thought I had my answer. Harvard psychology professor, Pinker packs more information into his sentences than any mere mortal could ever accomplish. Filled with astonishing erudition, brilliant references, and stunning conclusions, this is a book written by a genius for geniuses! The thought even crossed my mind that only a Mensa member could fully benefit from this book. "No wonder Gates loves this!"
But as I kept reading through its nearly 500 pages, I soon realized my initial assessment was entirely wrong. Gates didn't herald this book for its style. He lauded it for it's research – and for Pinker's perfect timing in urging readers to start embracing optimism instead of the negativity that pervades so much of today's discourse and thinking.
"Ordinary people think the world is going to hell in a hand basket," Pinker writes, "and a solid majority of us believe our country is headed in the wrong direction." And it's easy to see why people feel this way. "Every day the news is filled with stories about war, terrorism, crime, pollution, inequality, drug abuse and oppression. We never see a journalist report live from a country to say 'war has not broken out here.'"
In response, Pinker fills his book with chapter upon chapter of evidence that proves human life is only getting progressively better. We have fewer wars, less violence, more freedoms – and life expectancy has increased by 10 years in just the past half century. In areas of health, wealth, equality, the environment and overall wellbeing, all of it is ascending.
Consider these compelling examples of how life is actually improving:
Read More