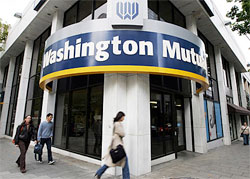 Note: This blog post was first published in the Editorial section of The Seattle Times on Sunday, September 25th, 2010
In a stunning coincidence, today marks the 122nd anniversary of Washington Mutual's founding – and the third anniversary of its demise.
WaMu survived the Great Depression and a crisis that wiped out a quarter of all US thrifts in the 1990's. It became a national brand.
With such endurance behind it, how is it possible this once stalwart institution ended up as the largest bank failure in American history? Within the answer to that question are important lessons for leaders about building and maintaining successful organizations.
Its spectacular collapse has been reported to be the result of extraordinary loan losses followed by a massive run on deposits. What really killed WaMu, however, was a change in the company's century-old culture and values – a misguided move that marginalized its historic regard and care for employees and customers in the interest of driving an ever-expanding bottom line for shareholders.
Washington Mutual had been "a friend of the family." And employees felt they were part of a family. A former senior executive told me his co-workers sent so many care packages when he served in Vietnam he couldn't wait to return to WaMu.
In the late-90's, the bank launched an aggressive period of national expansion. By 2003, WaMu's ranks swelled to nearly 50,000 employees.
To preserve the culture that boasted a century of success, Killinger decided to reintroduce the bank's five enduring values (Fair, Caring, Human, Dynamic and Driven). At "brand rallies" held across the country, employees were immersed in everything WaMu. They learned that the first three values were the foundation of our culture and the final two made us competitive and successful. However, we only "lived our brand" when all five were in balance.
The brand rallies took place until mid-2003. In 2004, WaMu suffered a significant financial loss. Convinced the bank had grown too large for Killinger to run alone, the Board of Directors named Steve Rotella as President and Chief Operating Officer.
Rotella acted quickly. He believed certain high-ranking executives needed to be replaced in order to succeed at a national level. He also openly disregarded the first three values. Making an all-too-common error about what kind of corporate culture drives the greatest and most sustainable productivity and profit (and what could have restored the firm to high achievement), he asserted that too much emphasis had been placed on being "fair, caring and human," and nowhere near enough on "dynamic and driven."
Read More