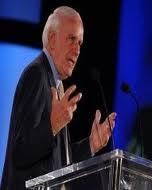 One day just a few weeks ago, I woke up thinking about Jim Rohn, a person I heard speak at a company conference in 1987.
That Mr. Rohn popped into my consciousness just as I was waking wasn't entirely surprising to me.  Information he shared in his presentation nearly 25 years ago had a profound and lasting effect on my life, and I still speak of him frequently to others.
But simply because he was the very first thought of my day, I felt compelled to do a Google search on him.  And from a linked obituary I found there, I learned he'd died two years ago – on December 5, 2009.
I took all this as a sign from the universe that my post this week (near the 2 year anniversary of his passing) should be devoted to Mr. Rohn and to sharing some of the most powerful ideas he presented.  If you're unfamiliar with Jim Rohn, he was one of America's greatest motivational speakers ever; I encourage you to research more of his work.
Rohn launched a three-hour address by summarizing his biography.  At 25 years old, he was on the road to nowhere special.  He'd dropped out of college, was working at Sears as a stock clerk – and yet dreamed of having a more successful and fulfilled life.
It was around this time Rohn attended a lecture given by a wealthy entrepreneur named J. Earl Shoaff.  While impressed by Mr. Shoaff's professional achievements, Rohn was particularly captivated by the life philosophy which propelled them.
It wasn't long after that Rohn joined Shoaff's direct sales organization where he committed himself to a process of personal development.  Leveraging all he learned – and with Shoaff's personal mentorship – Rohn became a millionaire just six years later.
Rohn devoted the rest of his life to sharing all he'd learned from Mr. Shoaf and to studying the beliefs, behaviors and philosophy of exceptionally successful people.  The synthesis of all the insights he acquired was the basis for the presentation I heard him give – what he'd themed, "The Seven Strategies for Health, Wealth and Happiness."
Read More