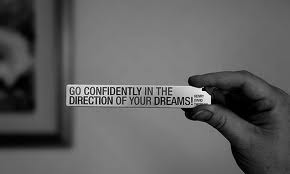 "Man often becomes what he believes himself to be.  If I keep on saying to myself that I cannot do a certain thing, it is possible that I may end by really becoming incapable of doing it.  On the contrary, if I have the belief that I can do it, I shall surely acquire the capacity to do it even if I may not have it at the beginning."
                                        Mahatma Gandhi
As those of you who have read Lead From The Heart already know, throughout my entire childhood, I had the perverse experience of routinely being told I would end up a failure in life.
Through repeated and profoundly destructive interactions with my father, I was taught to believe that I fundamentally lacked.
My father's influence, of course, had the effect of deeply undermining my self-confidence.  It made me doubt my capabilities and talents, and fearfully approach most new things.
How I overcame my great deficiency in self-belief had much to do with other people who came into my life – friends, teachers and coaches – who saw things differently and made a distinct point of insisting that I actually had much to offer.   In the context of all I was hearing at home, these words of encouragement gave me far more empowering views of myself, ones that inspired me to reach, to pursue greater challenges and to overcome my feelings of inadequacy.
When I later entered business and first became a manager of people, I made a surprising observation: the far majority of employees working for me had self-defeating doubts about how talented and capable they truly were.   Many consistently underestimated their full human potential.
Guessing that few of them had anything close to the upbringing I had – and that their parents likely did all they could to build up their self-esteem – I soon came to understand that fear and doubt are a part of the human condition.
In a peculiar way, I also realized I'd been groomed to help people transcend their unfounded limitations.  I knew instinctively that if I took on the role of being my teams' chief confidence builder, great achievements would assuredly follow.  And, they did.
What I know for certain is that people have far greater potential than they often see in themselves.  Leaders who not only understand this, but seek out ways to draw it out, will be the ones who will rule the world.
If you'd like to get started building up the confidence of your team, here are four great ways to get started:
Read More