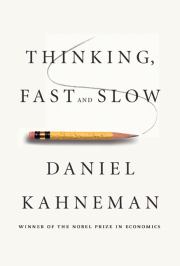 Daniel Kahneman, recipient of the Nobel Prize in Economics, is a genius in our midst.
At seventy-eight-years-old, Kahneman has spent the majority of his life studying how the human mind makes decisions, especially their most important ones.
Leveraging a life's work of research, in his new book, Thinking Fast And Slow, Kahneman concludes that, all too often, we make incredibly irrational choices – generally because we're not sufficiently aware of how our minds work.
Kahneman tells us that we have two ways of thinking, what he's named  "System 1" and "System 2."
"System 1" is effectively our auto-pilot.  Acting  fast, and with no sense of voluntary control, our intuitive mind continuously generates impressions, intentions and feelings.   When subsequently endorsed by "System 2," which is most of the time, these impulses turn into our voluntary actions.
"System 2" is our rational mind.  Deliberate, detailed and more specific in it's processing of complex information, "System 2" slows things down to make more conscious and reasoned decisions.
There are a few things you need to know about "System 2" that might surprise you.  First, it tends to be extremely lazy relying too often on the instinctive direction it receives from its sibling, "System 1."   And what might appear to be "System 2's" greatest strength – it's ability to sharply focus – actually renders it blind at times to important information.
Read More