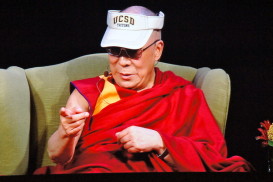 His Holiness, the 14th Dalai Lama, spoke at my alma mater, the University of California, San Diego last week, and it was an honor and great privilege for me to attend.
Noting that the Dalai Lama is one of our world's most influential leaders (albeit spiritual and not in business), I paid particular attention to his word choice, the beliefs he expressed and, most especially, to his actions.  My hope was that I would observe some compelling and unique leadership practices that I could later pass on to you.
As you might imagine, the Buddhist monk and 1989 Nobel Peace Prize winner, did not disappoint.
The Dalai Lama came to UCSD specifically to speak about global climate change and was joined on stage by two of the world's foremost subject experts, Dr. V. Ramanathan and Dr. Richard Somerville.
Both scientists are distinguished professors at the Scripps Institution of Oceanography.  Ramanathan discovered the "Greenhouse Effect" three decades ago, and Somerville was the lead author of a climate change paper that shared the 2007 Nobel Prize equally with former Vice President, Al Gore.
Before the Dalai Lama spoke a single word, each researcher took a few minutes to summarize what's now known about the effects of coal and fossil fuel burning.  We learned that carbon dioxide and other heat-trapping gasses are indeed warming the earth's temperatures, raising sea levels and melting glaciers (80% of the Himalayan icecaps are now gone).  Both experts were emphatic that action is needed now and, within twenty years, the effects of man-made pollution will be irreversible if left unaddressed.
Noting that half of Americans remain unconvinced that this problem is real, Dr. Somerville concluded, "Everyone is entitled to their opinions, but not when it comes to the facts."
With this as a background, let me now share four of the most impressive things the Dalai Lama did to powerfully influence his audience and demonstrate his mastery of interpersonal leadership. 
Read More