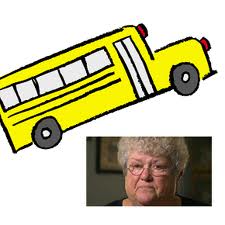 Note: This blog also was published by FastCompany.com on June 26, 2012.   http://bit.ly/MQkfrS
"Happiness does not lie in happiness, but in the achievement of it."
                                                     Fyodor Dostoevsky
Karen Klein, a 68-year-old school bus monitor, was verbally abused and bullied by a group of seventh-grade students a few days ago, and her story quickly has become a sensation across the country.
In a matter of days, 5 million people have viewed a You-Tube video that documents her mistreatment, and television news shows have replayed it for many millions more.
The situation is painful to watch.  An upstate New York grandmother who earns $15,000 per year ensuring student safety is incessantly tormented and derided by several of the kids she works everyday to protect.  The teenagers make extremely cruel remarks, often profanity laced, and insult her long enough to bring Mrs. Klein to tears.  Before it's over, one boy physically taunts her by poking her in the stomach with a textbook.
Remarkably, Mrs. Klein's demeaning experience hasn't just earned our human interest; it's earned an astonishing outpouring of our money.
A campaign that initially sought to generate enough donations to send the beleaguered widow on a well-deserved vacation has ballooned into an account that's now quickly approaching $1 million!  Monies sent in support of Mrs. Klein already exceed $650,000 and at least 16,000 people have contributed.
The question of why so many of us care about Mrs. Klein so deeply that we feel compelled to send her supportive cards along with generous checks deserves our attention.
I believe there are three main reasons why we're all reacting so viscerally to what happened to Mrs. Klein and, essentially, all of them relate to the fact that many of us feel disrespected and under-appreciated for the work we do everyday.   Consciously or unconsciously, we're projecting our feelings about our own jobs onto the experience of Mrs. Klein.   We're hurting at work and are suffering Mrs. Klein's pain as that of our own:
Read More