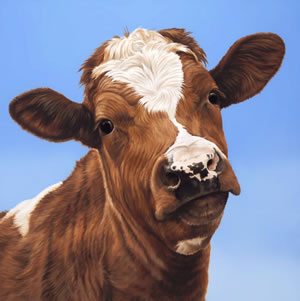 After working out this morning at my gym, I walked into the locker room and overheard one of my friends, Joe, tell another exerciser that he'd grown up on a dairy farm.
Instinctively recalling a New York Times article that reported, "Cows, when given names, produce six percent more milk," I inserted myself into the conversation and asked Joe if he'd been inclined to name all his cows.
"Yes, I was!" said the seventy-five-year-old urologist.  "As a kid, I had a name for all the animals on the farm, and I tried to make friends with each and every one of them."
"But my dad had a different opinion on that," Joe said in an immediate change of tone.  "He attempted at a very early age to teach me to avoid making emotional connections like that with our animals.  One night, he took my pet rabbit, Freddy, and insisted my mother cook it for dinner.  Sitting at the dinner table, I had tears coming down my face as my father insisted how delicious Freddy tasted."
This brief interchange was startling to me, of course, and it ended as quickly as Joe packed his gear and headed home.  But there was no question in my mind that Joe's sudden recollection was nearly as painful today as it had been sixty years ago when the experience originally occurred.
While this story is indeed horrifying – and who today wouldn't judge Joe's dad as having been an extremely cruel and careless parent? – the lesson he very purposely sought to instill in his young son is much the same as we've all long been taught:  Keep your heart out of business.
Read More