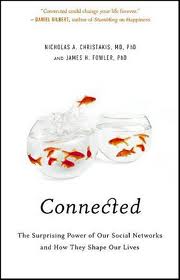 "Setting an example is not the main means of influencing another, it is the only means."
– Albert Schweitzer

Introduction:
Through a series of fascinating studies, Harvard-trained social scientists, Nicholas Christakis and James Fowler, have shown that human beings are profoundly influenced by the behavior of the people closest to them in their lives.
When we learn a colleague has voted, for example, we're far more likely to vote ourselves.  When someone in our social circle quits smoking, eats too much in a restaurant, or is characteristically studious, we're unconsciously persuaded to copy those same behaviors.
While the research proves something we may long ago have intuitively surmised – that we directly influence our friends and they influence us – Christakis and Fowler discovered that the true nature of that impact is far greater – and wider – than any of us may have imagined.
What you're about to learn is groundbreaking information (not to mention incredibly interesting).  But it's very possible that your behavior as a leader will be permanently and positively changed once you discover the full power of your own personal example.
Human Behavior Is Wildly Contagious
In what's perhaps their most revealing study on influence, the two researchers sought to determine whether having an obese friend made people any more susceptible to becoming obese themselves.
To get their answer, Christakis and Fowler directed a team that painstakingly analyzed three decades of data collected from the famous, and still ongoing, Framingham Heart Study.  Dating back more than 50 years, 15,000 study participants – the residents of Framingham, Massachusetts – have visited their doctors every four years to have their key health indicators, including their weight, measured and recorded.  And before every check-up was finished, participants updated their list of family members, co-workers and friends.
By the time all the analysis was completed, the research team identified how 5,124 of the Framingham residents were connected, and linked them to over 50,000 friends, family and co-workers.
The study results were then published in the New York Times.  In a front-page article titled, "Are Your Friends Making You Fat?" the paper reported that the behavior of loading on pounds is highly contagious:
Read More