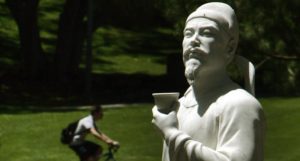 One of the most popular classes at Harvard University today is a deep dive into the wisdom of the great Chinese philosophers, scholars who lived over 2,000 years ago.
We all know their names – Confucius, Mencius, Zhangzi and Lao Tzu – Eastern sages who devoted their lives to exploring what it takes to flourish in life, and who often landed on counter-intuitive conclusions that stand in stark contrast to traditional Western thinking.
"Your lives are about to be profoundly changed," Michael Puett tells his students on the first day of class. The professor begins every new semester knowing that the time-tested and spiritually informed ideas of the Chinese scholars will likely fully transform how his students go on to operate in the world.
After taking Puett's class as a Ph.D. student, Christine Gross-Loh astutely realized that far more people than Ivy League students needed an introduction to classical Chinese philosophy. And she urged Puett to collaborate with her on a book – and to effectively make his research available to us all.
Just recently, the pair published, "The Path: What Chinese Philosophers Can Teach Us About The Good Life," and it's become a New York Times best seller.
While nowhere is it clear in the title, many of the book's most provocative ideas also have direct application to workplace leadership. After fully digesting The Path – and then spending considerable time discussing it with Gross-Loh, I've spotlighted three pieces of ancient wisdom that are not only likely to challenge your personal views on how best to excel in the world, they might just send your own life into a positive new trajectory:
1.   The World Is A Messy, Fragmented Place Filled With Messy, Fragmented People
Most of us see the world as a harmonious whole – stable and mostly under our control. But in the view of the ancients, this is pure illusion and entirely wishful thinking.
Instead of being cohesive and reliable, they saw the cosmos as fragmented, chaotic and very often messy. "Our lives are messy, our actions are messy and our personalities are certainly messy," Gross-Loh told me. "We tend to behave as if the world is fully coherent and this assumption affects all our decisions. Consequently, we're often taken by surprise whenever things don't work out as we expected."
Importantly, the Chinese philosophers weren't offering a doom-and-gloom projection of things; they were simply realists. In their view, once we accept that nothing is ever stable, we're able to live far more expansive lives.
Read More