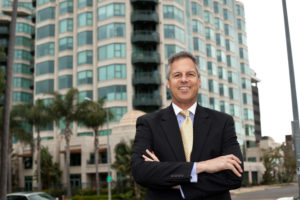 Mark C. Crowley spent over 25 years in the dog-eat-dog world of financial services, an environment known for its heartlessness and "take no prisoners" attitude.
Twice, he held national-level responsibilities – most recently as Senior Vice President-National Sales Manager for Investment Products at one of America's largest financial institutions, where he was named "Leader of the Year."
What he ultimately discovered is that his chosen management style was truly uncommon in business, yet extraordinarily productive.
His teams repeatedly excelled. When asked what he was doing differently, Mark replied, "It's the same disciplined approach others have with numbers and production…but mine is with people. You could say I manage the emotional side of work. I intentionally make people feel valued.  I identify their raw talents and seek ways to maximize their full potential.  I express my deep belief in them, give them voice, proactively coach and teach them – and make a deliberate point of honoring and recognizing all their achievements."
As a result, Mark's people repeatedly scaled mountains for him and delivered phenomenal performance. Intrigued by their unwavering achievements, Mark decided to leave the financial services world and devote himself to fully answering the question:
"What happens inside of people that makes them fully committed 
to doing extraordinary work?"
His research led to the publication of his first book, Lead From The Heart, and his work as a speaker and consultant for companies and organizations seeking to achieve and sustain uncommonly high engagement and performance.
Recognized globally as a workplace thought leader, Mark is a regular leadership contributor to Fast Company Magazine and has been published in the Seattle Times, The Huffington Post, Reuters, CEO Magazine Great Britain, USA Today, and by the Great Place To Work Institute.  He's interviewed CEOs and senior executives at innumerable high-performing companies (including Google, SAS, Gallup and the Cleveland Clinic) who are models for "managing the emotional side of work."  And his profound conclusion draws on new scientific research which shows that the human heart is a source of remarkable intelligence: What people feel in their hearts has tremendous influence over their motivation and performance in the workplace.  "The heart is the driving force of human achievement."
Mark's two recent LinkedIn Pulse articles on Employee Engagement, and managing Millennials, have been read well over 1 million times.  And his book, Lead From The Heart, is now being taught at seven U.S. colleges including Northern Arizona University, Embrey-Riddle University, San Diego State University, the graduate strategic leadership seminar at the University of Iowa, and the Leadership Development Ph.D Program at Brandman University. Lead From The Heart consistently ranks as an Amazon.com top 100 bestseller in the workplace culture category.
Mark was named a "Trust Across America 2016 and 2017 Thought Leader" by TRUST! Magazine, and was additionally spotlighted in Forbes Magazine which asserts that his innovative thesis represents "the future of workplace leadership:" onforb.es/1LtWQiQ
Mark is a graduate of the University of California, San Diego, in addition to the Pacific Coast Banking School at the University of Washington. A businessman at heart, he holds several investment securities licenses (FINRA Registrations) and is a licensed California Real Estate Broker.  He lives in La Jolla, California.
Follow Mark on:
Facebook: and Twitter:
To Reach Mark Directly:
 Office: 858-456-2779
E-mail: mark@markccrowley.com