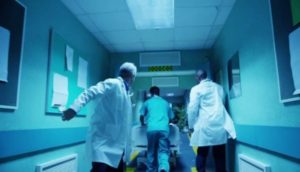 Early one morning just a few weeks ago, I woke up with the intention of starting my day at the gym.  But before I ever made it out of the house, I completely blacked out, fell on a cold travertine floor and broke my ribs.
The pain from that fall was excruciating; and it immediately restored me to consciousness.  But the sheer terror of the moment instantly grew worse; I thought I was suffocating.
Hearing my moans, my wife found me splayed on the ground and largely incoherent.  Stunned and petrified, she kept asking me what had happened. But by this point, indescribable fear had set in, and all I could do was cry the words, "I can't breathe. I can't breathe!"
Despite my grave condition, I resisted my wife's pleas to call an ambulance.  In disbelief over my characteristic male stubbornness, she figured out a way to get me in the car and transported to the emergency room at Scripps Clinic, La Jolla. And this is when a team of brilliant doctors and nurses mobilized with the purpose of saving my life.
I could immediately see in my doctor's face that he was highly alarmed by my condition.  Consistently – as he hurriedly worked to check my vital signs and make a diagnosis – he took time to scold me for not calling 911.
Even in my diminished state, it was obvious to me that every nurse on this triage team had a unique role to play.  As if I was watching a movie of someone else's experience and not my own, I marveled at how brilliantly orchestrated everything was.
But a sobering reality instantly set in when my doctor told me he was rushing me into the operating room and that I'd be going under anesthesia.  It was at this moment that a nurse called my name.  Looking me straight in the eye, she pierced me with the words, "You're going to be alright, Mark.  We're all going to make sure of it."
Hours later, when I came out of sedation, I learned that my left lung had collapsed in the fall, and that my heart had endured tremendous stress.  But far more disconcerting to my doctors was their discovery of a "pulmonary embolism," a blood clot in my lungs similar to the one that recently took the life of PBS radio anchor, Craig Windham.
When I was told I was being moved into the Intensive Care Unit, only then did I fully acknowledge that my life was indeed in great danger.  I found out later that it was at this same time when nurses asked my wife if I had signed a Do-Not-Resuscitate Order.
But here's the truth.  From that moment on, I never really feared for my life.  And it wasn't because I was inordinately brave – or even exceptionally delusional.  My conviction that I'd fully recover had everything to do with how my doctors and nurses treated me – how they made me feel.
Read More