Who You Choose For A Speaker Will Likely Determine The Success Of Your Entire Meeting!
There's simply no question that the performance of a conference speaker plays a huge role in determining whether a meeting is judged a success. So who gets selected must deliver the goods!
It's not uncommon for organizations to set very high expectations for a speaker – simply because so much is at stake. So here are five compelling reasons choosing Mark C. Crowley will produce the outcomes you need & desire.
Mark Is A Real Leader, Not An Academic Or Theorist
Audiences are quick to judge whether a speaker is street-smart & credible, and instinctively ask themselves whether that person has ever worked in the real world, and can relate to their day-to-day experience.
Mark is able to build immediate trust and rapport with his audiences simply because they can feel he's an authentic human being with an impressive background of leadership responsibility backing him up. Over a 20+ year career, he worked himself up from a management trainee to two national level positions in a 50,000 employee-sized company. His leadership assignments were broad, deep & challenging – & his financial services firm named him "Leader of the Year." His knowledge, experience & sustained success all make him an expert – and audiences feel it.
Mark's Message Is Innovative & Predicated On State-Of-The-Art Research
One of the greatest challenges in business today, as everyone knows, is finding truly effective ways of engaging employees, building their loyalty & driving an expanded bottom-line – all at the same time.
But at a point in history when job satisfaction & employee engagement have reached historic lows, what many companies have chosen to do is to take the safe route. They offer up presentations that bring a re-hash of yesterday's ideas rather than challenge employees to evolve & adapt to a rapidly changing workplace.
There's a reason why engagement statistics around the world are unimproved since the beginning of the millennium. It's because we're still using Twentieth Century methods to motivate Twenty-first Century workers. Rather than have the courage to embrace leadership practices needed in order to excel in a new century, we've really just been moving peas around the plate.
What Mark brings to his audiences is a blueprint for leadership excellence in 2017. His methods aren't only validated by his years of experience in influencing teams to scale mountains – his practices are backed by stunning new medical & scientific discoveries that essentially pave the way for a modern-day approach to motivating people in their jobs.
When some people hear the title of Mark's book, "Lead From The Heart," they initially get squeamish. The have an inner fear that his message might be soft, religious or just not a fit for business. What these people don't understand is that it's the human heart that actually plays the greatest role in driving human behavior – and the groundbreaking science behind it is what every manager needs to know in order to more effectively lead and influence their people.
When people who've worked for Mark in the past have been asked to pick one word to describe his management style, they consistently use the word "demanding." Leading from the heart isn't a feel good strategy; it's about how to drive sustainably greater performance.
Mark Is A Cutting-Edge Thought Leader
When Mark first published his book, he had no platform. The only people who really knew him were former colleagues. But now, he's found a highly interested audience. Fast Company Magazine has published 25 of his articles – with several being the most read on their global site. His recent LinkedIn articles on managing millennials & reversing the engagement slide have been read over 1 million times.
His book is being taught at four American Universities, & he's been asked to give the commencement address at Brandman University's Education Ph.D program this fall. Now with over 125,000 Twitter followers, Mark has forged deep connections with top executives at Gallup, Google, SAS, The Conference Board, the Institute of HeartMath & many others. Right before her company was sold to Verizon, Yahoo CEO Marissa Mayer invited Mark to speak to her top managers from around the world.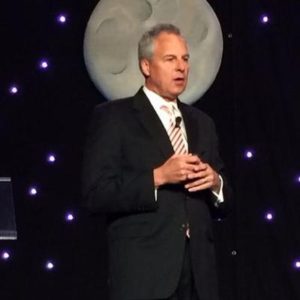 Mark Is Inspirational & Will Move Your Audience
Sitting through a lecture – no matter how filled it is with great information – will dull the spirits of people who are out of the office for a few days & hoping to return to their jobs with new inspiration & motivation. So Mark shares stories – his experiences during a truly inhumane upbringing that would go on to profoundly shape how he would go on to lead people in business. His uncommon openness often draws tears, but its real value comes from the impact & connection he's able to make with his audience.
Your Audience Will Return To Their Jobs Armed With Ideas They Can Put To Immediate Use
It's safe to say that many people attending meetings & conferences return to their work with greater enthusiasm, but do few things differently tied to anything they hear & "learn." To remedy this, Mark intentionally teaches his audience what a fantastic Twenty-first Century leader looks like – how they think, what motivates their behavior & what unique managerial practices they employ. He also insists upon holding a formal Q & A session following his presentation. The goal & outcome of this extra 15+ minutes is that attendees get to ask questions related to their own personal leadership experience: Their challenges, their people, their need for clarification. It's a powerful way of instilling a truly deep understanding of all they've just heard.
Mark's mission is to help organizations evolve how they lead in ways that will yield unimaginable performance improvement. He also happens to be quite a good speaker.
If you would like to speak to him directly to discuss the unique needs of your special meeting, or to discuss his availability, please call him directly at 858-456-2779. Or contact his agent, Derek Sweeney:
The Sweeney Agency
1-866-727-7555
Mark gave the commencement speech at Colorado Technical University's Masters & Ph.D graduation ceremony. Here's an excerpt from the subsequent Q & A Session: