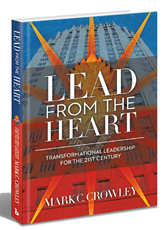 The Way We Lead People In The Workplace Is Failing….
According to New York's Conference Board, job satisfaction has been on a steep and steady decline for an entire generation.  The century-old research organization reports that more than half of all US employees are unhappy at work today – effectively an all-time low.
New Gallup studies not only validate that people feel worse about their work, bosses and organizations than ever before, they reveal a remarkable 71% of American workers are either not engaged in their jobs – or have become actively disengaged.
Clearly, all this discontent is bad for business (and all workplaces).  Gallup estimates that it's costing no less than $300 billion in lost productivity every year.
Given all that's at stake, and with many great business minds presumably attacking this leadership crisis, we're left to wonder why we've yet to stem the tide?  How is it that we haven't yet identified what it will take to re-inspire our nation's workforce?
In his groundbreaking book, former financial services senior executive, Mark C. Crowley, shows us it's because the solution contradicts one of the most widely accepted and long-enduring paradigms in business: The path to engaging workers is through their hearts – not their minds.
To Re-inspire Workers, We Need A New Model Of Leadership For The 21st Century….
We've long been taught in business that bringing any amount of heart to leadership is a fundamentally flawed, feel-good strategy.  But science recently has discovered that the heart is much more than a mere blood pump.  It's a source of great intelligence and perception.
Drawing upon research that overturns centuries-old understanding, Crowley shows that feelings and emotions actually drive human engagement.  Consequently, leadership practices that positively affect the hearts in people naturally and reflexively inspire them to perform.
A Towers Watson study recently showed that the greatest driver of employee engagement worldwide is whether or not people feel their managers and organizations demonstrate genuine concern for their well-being.
In Lead From The Heart, Mark C. Crowley introduces four profoundly impactful leadership practices that support the deeply human needs in people and inspire their greatest loyalty, initiative and sustainable productivity.  His work proves to CFOs and CEOs alike that leading this way drives a greatly expanded bottom-line for shareholders.
We've seen centuries of evidence of what the heart can do in sports, art and music. Business is next.
Lead From The Heart, and your employees will follow.
 *** Lead From The Heart now is required reading at Northern Arizona University's School Of Entrepreneurship, and Embry-Riddle Aeronautical University's School of Business.