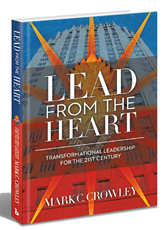 A Few Words About My Book
Don't let the title throw you. This is a serious book – based on compelling new research – that proves the solution to our global engagement crisis lies in the last place traditional business wisdom would suggest we'd find it.
After my financial career, I was curious to know more about how I arrived at this uncommon way of leading. Two years of research later, I published Lead From The Heart. It's my own personal story of what led to the development of the leadership practices that I speak about and teach.
And it irrefutably makes the business case for changing the way we lead.
If "Lead From The Heart" strikes you as sounding soft, touchy-feely or even weak as a management strategy, you're not alone. Many "experts" were insistent that I not publish the book with this title.
Ultimately, I went with Lead From The Heart because it felt like the best title for this "exact opposite" approach to leadership.
But make no mistake. Numbers don't lie, and this book is all about achieving sustainable business results, driving uncommon commitment and keeping your high achievers working for you and driving your company's success.
We all want to crush our numbers, and I'm no different. After all, our human brains carry thousands of years of focus on survival and competition.
But during my research, I realized that we've also seen centuries of amazing evidence of what the heart can do in sports, art and music. And I'm convinced business is next. I saw it proved out over and over again…when I led from my heart, my people enthusiastically followed. And so will yours.
Lead From The Heart is now being taught in leadership, entrepreneurship and child development classes at Northern Arizona University, Embry-Riddle University and San Diego State University.  In 2016, it will be read by Organizational Psychology PhD candidates at Brandman University, a member of the Chapman University system.
Lead From The Heart was also named one of the "10 Best Strategy Books To Beat The Competition" by the book editors at Small Business Trends.
If you would like to read the reviews, or purchase copies, this link takes you directly to Amazon.com  (As of September 2015, there have been 102 posted reviews with an average score of 4.85 out of 5.00).