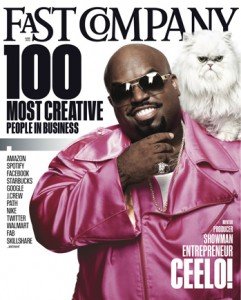 "Genius means little more than the faculty of perceiving in an unhabitual way."
                                       William James
Fast Company Magazine recently published its annual list of the "100 Most Creative People In Business," an assemblage of truly remarkable and inspiring human beings.
Honestly, it took me several hours to read through the 50-plus-page digest, a considerable commitment of time I willingly made to gain greater insight into the minds that are changing the world we live in.
Before I'd read any of the 100 mini-biographies, I'd already begun to wonder what common denominators I might find among all these uber-creatives.  I also wanted to discover where the focus of all this brainpower was going.
Gratefully, the list has broad representation in areas really needing man's ingenuity: politics, education, medicine, design and technology.  And the top-ranked genius, Mah Jun, has committed his life to China's environmental clean up.
But it deserves our attention that the highest percentage of our greatest innovators and creative thinkers have devoted their gifts to advancing the causes of social media and e-commerce.  And by the time I was done reading about all these wunderkinds, I was certain that their ideas were about to have a profound influence on our personal and professional lives for years to come.
You should know what trends these 100 geniuses are creating.  With that in mind, I want to share the three most prominent ones in hope that the information will help you more effectively lead your people and enterprise in the months ahead. 
1. Nearly half of the 100 most creative people are responsible for their organization's brand marketing or on-line presence. 
I tallied up the occupations of all 100 people on the list and nearly 1 in 2 are in the process of changing how products are marketed and sold – and, concurrently, defining the entire future of social media.
 For starters, it was striking to read that Facebook has hired Rebecca Van Dyke as its new head of consumer marketing – news that's appears to be a harbinger of how Facebook is seeking to evolve from a strictly social networking site to a product marketing juggernaut as well.  Van Dyke's credentials:  She led Nike's massively successful "Just Do It" campaign before moving to Apple and launching both the iPhone and the iPad.
 That's a lot of astonishing achievement behind just one person, of course, so you can bet that much about the future look and functionality of Facebook has been assigned to her brilliant imagination.  And, place an even bigger bet that Van Dyke not only will succeed by creating new and myriad revenue sources, she'll greatly drive up Facebook's currently weakened stock price as well.
Two other examples of on-line innovation and signs of things to come:
Vintage eyeglass e-boutique, Warby Parker, sends its customers five pair of glasses at a time – for free.  Justifying the expense and strategy: the company discovered that many people try them on and then post pictures on Facebook.  Brand awareness – and sales – have grown tremendously because of this friend-to-friend exposure.
After being on Twitter for only two days, American Express tweeted out exclusive access to Bon Jovi tickets – and sold out in just three hours!  Now any AmEx cardholder who syncs their card to a social media account will receive impressive discounts at stores like Whole Foods and Zappos
2.    Marketers Are Focused On Deep Personalization.
Go into a Duane Reed pharmacy on Wall Street and you'll find a stock ticker in full view.  Go into one in beer loving Williamsburg, just over the Brooklyn Bridge a few miles away, and you'll find a growler bar.  The trend for decades in retail store design has been uniformity.  Rick Barrack, Chief Branding Officer at CBX, has upended this norm because he believes doing so "tells customers we understand the way you live, where you live and what you need from us."   Expect much more of this.
And watch out for WalMart's cleverness the next time you post something personal on Facebook.  The co-heads of WalMart Labs have created technology that monitors words people write on Facebook and predicts the best products for the discounter to pitch the next time they sign on.  Tell your friends you just ran 10 miles and are looking forward to the half-marathon, for example, and expect to see a jogging shoe advertisement on your page tomorrow.
3.    Innovation Via Re-Invention
If you want to see creative brilliance in action, take a look at how four companies are looking at their business with a seemingly third, or at least new, eye:
Six years ago, Ren Ng, now CEO of Lytra Camera, wrote a dissertation that "explored the theoretical notion that a camera sensor could capture all light traveling in every direction allowing a photograph to be focused after the snap."  Ng's ideas no longer are theory and his new camera can take a picture from virtually all depths and lenses with just one click.  No focusing needed.
Starbucks has introduced a new application that allows customers to pay for food and beverages with a swipe of their phone.  Customers pre-pay their accounts and never have to bring out plastic.  A major innovation: the company dodged using a bank or Pay Pal and developed the technology on its own.
Ron Johnson, who formerly led development of the Apple stores, is now CEO at JC Penneys.  Johnson's plan is to blow up the enduring model of department stores and introduce a "Town Square" concept.  Coming soon to a JCP near you: 80-to-100 shops all in one store.
Sales of Gatorade were on a steep decline before the firm hired Sarah Robb O'Hagan.   For years, the beverage was almost exclusively promoted on television, including very expensive Super Bowl advertising, to men 18-49.   But O'Hagan's research showed that nearly half the sales were coming from high school athletes and weekend warriors.   Implicitly trusting the data, she redirected her marketing focus entirely to this specific audience and now markets to them digitally and much more personally.  The result of her reinvented and gutsy new focus: sales are up 9%.
I'll conclude with the words of Einstein in the hope that you'll now take a fresh look at your own business and innovate with the best of them.  "Creativity is contagious. Pass it on."
Blog writing is a lonely business and we only know we're doing well when we hear from you or when you share our content with friends and colleagues.  So please tweet away!  PS: if you'd like to receive these blogs directly, please sign up here!