Mark C. Crowley provides the strategy, practices, and science that drives uncommon employee engagement.
HEART-LED LEADERSHIP IGNITES HUMAN POTENTIAL
Organizations and leaders today are faced with an incredible challenge of attracting and retaining talented, productive and resilient people.
Compounding the problem is the fact that 21st Century employees demand far more than a paycheck in order commit to any organization – and when their needs aren't met, they simply move on.
To succeed going forward requires a reinvention of traditional leadership thinking – and for managers to support people in ways that fulfill their hardwired need for positive feelings and emotions. Only when human beings are thriving can or will they perform optimally. 
In his speaking presentations, Mark C. Crowley draws upon his 20+ years of experience as a high-performing senior leader in the financial services industry – where he differentiated himself with heart-led leadership practices – and outlines four success principles for leading from the heart that consistently inspired his teams to be highly engaged, record-breaking performers, and most importantly, enthusiastic about going to work.  
Mark also shares research from his groundbreaking book, "Lead From The Heart: Transformational Leadership for the 21st Century," that proves the science behind heart-led leadership and shows how the heart, not the mind, drives human performance and achievement.
Mark's message will motivate and move your people to believe in the power, success and personal satisfaction that comes from leading with greater heart. And there is no better time to become more deeply human than in this emerging age of transformation and automation.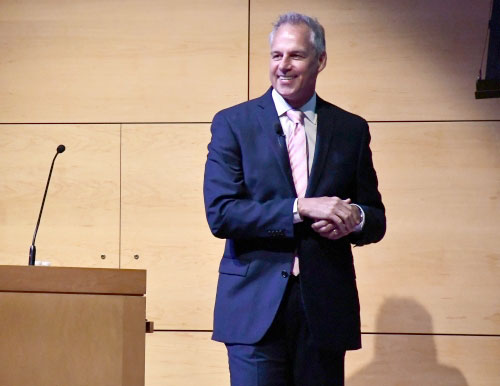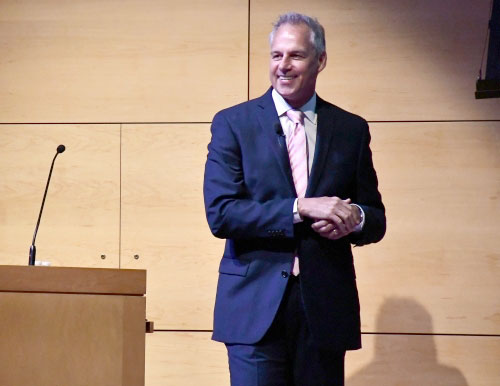 Understanding how the needs of human beings (workers) have changed and why traditional leadership methods no longer succeed.
How the COVID pandemic, & the work-from-home experience, have permanently changed how workers need to be led.
Why moving from a manager model of leadership to a coaching model is what's required to inspire 21st Century employee performance and engagement.
Why human beings require a steady experience of positive emotions in order to thrive – and the leadership practices that elicit them.
The science of the heart: emerging research from science and positive psychology which proves feelings and emotions often have the greatest influence on human choices and performance
Highly researched strategies of heart-led leadership that consistently inspire employee engagement – and drive results.
Ultimately, how to inspire uncommon engagement, loyalty and results.
"Mark C. Crowley encouraged our 4,000 associates to reach higher levels of performance. Anyone who wants to be a better person or improve their leadership performance will benefit from Mark's message!" 
"As a speaker, Mark does more than just share information. He communicates from the heart in a way that touches the audience."
 "Mark is an eloquent speaker who weaves in personal stories to keep his audience engaged, while demonstrating a sense of advocacy that inspires the audience with a sense of conviction."
Videos From Mark's Recent Podcast Appearances And Virtual Speaking Events
INSPIRATIONAL LEADERSHIP PODCAST
THE SILVER LINING PODCAST