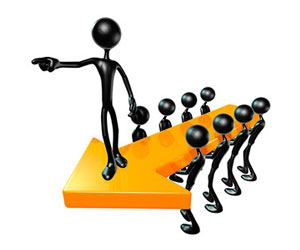 I'd like for you to think back on all the bosses you've had in your life and identify which one of them was the best ever.
Once you have that person in mind, take a look at these two lists of attributes and see if one isn't more descriptive:
Leader A
Inspiring
Appreciative
Natural
Candid
Constructive
Generous
Requesting
Sharing
Valuing
Unselfish
Leader B
Controlling
Envious
Artificial
Calculating
Destructive
Petty
Demanding
Hoarding
Exploitive
Selfish
It's not much of a stretch for me to predict the greatest leader you've ever worked for is best described by the qualities of Leader A.  These are the higher consciousness-related characteristics of people who lead from the heart – and to great effect as you can attest.
Now I'd like for you to consider the descriptor "High Expectations" and determine under which list it best belongs – Leader A or B?
I'm hoping you've realized the answer is both.
People with the characteristics of Leader B inherently have high expectations – they're routinely demanding (albeit in a self-serving kind of way).
But the point of this post is to dismiss the idea that people whose leadership fosters the well being in workers somehow have lower demands of what gets accomplished.   They don't and they shouldn't.
Think back again to the most extraordinary leader of your life.  Did you achieve more under that person's direction or less?  Were you more – or less – motivated to work longer hours, display initiative, and bring passion into your work?
I already know the answers to these questions.  People instinctively react positively to what is supportive to them and negatively to what is not.  It's a law of nature.
What the greatest leaders already know is that caring for employees is a natural catalyst for high engagement.  And since engaged workers thrive by making meaningful contributions, these same leaders know to routinely raise the bar on their expectations.
Some business leaders will continue to believe the idea of leading from the heart is a warm, fuzzy – and inherently less productive – approach.  However, the results your team achieves will prove otherwise when you do these two things:  emulate the leadership attributes of the best boss you ever worked for (Leader A attributes) and then set targets well above those set by your doubting peers.
Sharing these posts with friends is cool!  If you would like to receive them directly, please  sign up here!
PS:  After this article was posted, all of the social media counters on our website mysteriously reverted to zeros — and all historical share counts were lost.  All links now are working!