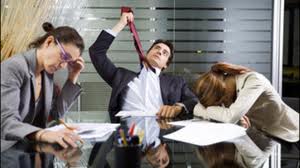 The average Goldman Sachs employee earns in excess of $350,000 per year, and we're assured Greg Smith, who most visibly quit his job there last week, was paid substantially more.
And, in leaving his long-time employer, Smith didn't abandon just a fat salary. To regain his career freedom, he knowingly forfeited a considerable sum in deferred compensation as well.
Most people in the world, of course, can only dream of being so highly paid for their work, so it's a good assumption that a very large percentage of the working population has summarily judged Smith's resignation as an act of complete insanity.
If they could coach him, they would say: "Go back to Goldman, Greg!  You have a terrific deal!  Subordinate your concerns about a declining corporate culture and profit-at-any-cost leadership. You have a penthouse to go home to at night!"
But this scenario is a complete fantasy. Regardless how little or much they are making, U.S. workers have begun to quit their jobs – in droves – to go in search of organizations, and leaders, they feel will better support their needs. As Smith's actions show us, pay no longer is the driver of engagement or job satisfaction it once was.
Last year, a MetLife study published in USA Today showed that at least one in three U.S. workers was quietly planning their departure and already had begun looking for a new job. Stunningly, the report noted that most bosses were oblivious to how unhappy and inherently disengaged their employees had become, and would be caught flat-footed when their workers walked out.
Read More