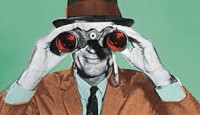 "Talent hits a target no one else can hit. Genius hits a target no one else can see."
 – Schopenhauer
It's been nearly three years since Gallup announced its stunning finding that engagement in the American workplace had fallen to crisis levels.
In what became the shot heard 'round the world in business, the research firm revealed that 70% of the nation's working population admits to being disengaged in their jobs (i.e., content with collecting a paycheck while investing little of their hearts in their work) – and that nearly 1 in every 5 workers is so discontent that they're perversely motivated to undermine the effectiveness of their bosses and organizations.
All of this profound unhappiness has a primary source, of course, and organizations across the land have scurried to create taskforces, introduce employee satisfaction metrics and experiment with innumerable strategies in their efforts at finding it.  Like any problem decades-long in the making, however, no new programs or organization-wide themes are likely to prove effective at creating a sustainable solution. (For proof of this, we only need to look at where engagement is in 2017.  The needle has barely moved).
I've always believed, of course, that our shared engagement problem is the direct result of ineffective – even destructive – leadership.  More specifically, I've shown that human beings have greatly evolved what they need and want in exchange for their committed efforts at work, while our traditional managerial practices have failed to keep up.
Last fall, Gallup helped confirm this assessment when their research revealed that too many people in supervisory roles today, across all industries, lack the requisite ability to manage.  Their important revelation was that employee engagement in the 21st Century is largely dependent upon having a good manager.
In a series of discussions I've since had with Dr. Jim Harter, Gallup's Chief Research Scientist, I've learned there are five specific talents that characterize the most effective and influential workplace leaders.
The direct and immediate take-away is that some people are naturally imbued with qualities and talents that virtually preordain their leadership success.  The surest way of restoring high engagement, therefore, is to only select people with these traits into all future managerial roles.
Managers, Not Organizations, Drive Engagement
"We've long had the understanding in business," Harter told me, "that organizations have an overriding culture – one that's either highly engaged or not.  But when we mapped engagement data down to the team level, we started noticing that engagement – and all performance metrics – varied widely.  Our discovery was that culture varies by team.  When we got under the hood a little bit, it became more obvious that whatever was happening with a team was directly related to its manager and to the tone they were setting."
Read More